Take it to the Next Level with Insurance Minded.
Finding a good insurance company can be difficult sometimes. We're here to help you get more information on different kinds of insurance, the best kind of policy to choose, and review everything there is to know about insurance companies big and small in your area!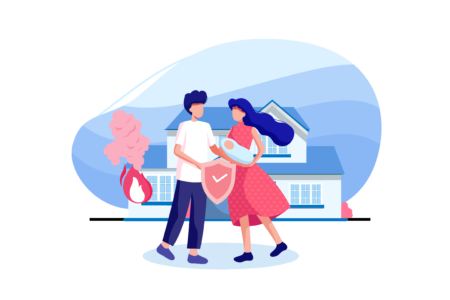 Explore our guides
Our experts have compiled resources that cover the basics and beyond.
Insurance Products
Car Insurance
If you're driving legally, you must be able to prove that you have adequate car insurance coverage. Your policy should cover everything from your own personal liability to damage to other people's cars, their property, and yours.
You don't want to buy too little car insurance because you might end up paying for something unexpected. But you don't want to pay too much either. So, you're stuck between a rock and a hard place.
It's important for people who own cars to know their auto insurance policies well so they can protect themselves from financial loss if an accident occurs. Insurance agents recommend reviewing your policies every 6 months, but you can change them whenever you want.
However, if you buy a new car, have a child, start driving your teenager, or move, these constitute life events.
The top auto insurance providers include State Farm, Geico Insurance Company, Progressive Insurance, and Allstate. You may want to compare their policies and prices before choosing one.
Home Insurance
If you own valuable possessions such as a car, collection items, or house, you should consider insuring them for their full value. You may be investing in something that is worth far more than its current market price.
Surprisingly, no state requires homeowners insurance, but most people buy mortgages from banks or lending companies that will certainly want to know if there is damage to the property.
Fortunately, most of the major auto insurers also provide homeowners or renter's coverage at a discounted rate. For example, some carriers may give you up to 10% off when you buy both homeowner's and auto coverage from them.
With so many home insurers offering coverage today, it's time for you to start comparing them.
Life Insurance
When do you plan to die? What happens after you die? Are you prepared for these questions? Do you know how much money you'll need to take out of your bank account before you die? Will you leave enough money for your family? These are questions that everyone needs to think about. Accidental deaths can happen at any age. But they're not inevitable. You can protect yourself against them.
With either type of policy, premiums are based on your current health conditions, age, gender, marital statu­s, number of children, whether you own a business with someone else, and any other assets you want to secure in the event of your death. You can choose between a long-lasting, fixed-rate plan (also called a "whole" policy) and a short-lived, variable-rate plan (also known as an "annual" policy).
Term life insurances are good if you're young and don't expect to live past the age of 45. They offer lower rates than whole life policies but require a larger down payment.
As you get older, the statistical chances of dying increase. If you don't buy additional life coverage, your premiums will go up.
With every new 20-year life policy purchased, the premiums will be based, once more, on age, gender (if male), occupation, medical needs, hobbies, etc.
After turning 45, you might want to think about buying a new kind of insurance policy because between 45-85 (only five years passed since you turned 45) your odds of dying increase by 31%. It's high-­‐​­‐­‐­‐­‑­­tide for an upgrade.
Life insurance policies are permanent, carry a value, and are good for your entire life, regardless of your current state of well-being. They're a smart long-term financial decision.
Your family's financial situation will ultimately dictate which type of life plan is right for you. Remember, though, that a hefty life plan isn't useful unless you've got a will or power of attorneys.
The top home insurance providers currently leading the industry are MetLifes, New York Lifesurance Group, Northwestern Mutual,and Prudential. Use their online quotes tools to get affordable policies for yourself and your family.
Health Insurance
Most American adults want full-time jobs so they can get paid well and enjoy the comforts of life. However, in some cases, employers offer better coverage at lower prices than what employees pay through their own private plans.
Unfortunately, we don't have universal healthcare coverage for everyone yet, but fortunately, we do have the Health MarketPlace that guarantees every American has access to affordable health coverage.
When selecting an insurance provider, be sure to check out their network of doctors and which ones they accept. If you have specific doctors you prefer, it's important to look into these things before signing up for a particular insurance provider.
At present, the biggest health insurers are UnitedHealthcare, Anthem, Aetnas, and Cigna Health. You can compare health plans offered by various companies through our comparison tools.
Medicare Health Insurance
Most Americans pay taxes on every dollar they earn. Social Security and Medicare taxes are added to these amounts for most people.
The Medicare program is intended to assist those over 65; however they may require additional coverage if they are not covered under another plan. Why? Everybody can receive Medicare part A at the age of sixty five without charge. Unfortunately though, part A only provides assistance for hospital visits, short term stay at nursing homes or rehabilitation centers, some medical services, and certain hospices.
Anyone aged 65 or older is also eligible for Medicare part B (Medigap) at a cost. It covers doctor visits, in-home health aids, medical equipment, out-patient treatment, and preventive medicine. There are even ways to add more than 8 levels of coverage.
The top health insurance providers currently leading the industry include Humana, Aetnas, Cignas, and AARP by UnitesHealthcare. Compare supplemental Medicare Health insurance rates by using our free rate comparison tools now.
Pet Insurance
Health insurance is a form of protection against illness and injury for both humans and animals. When an animal becomes ill or injured, health insurance provides coverage for veterinary care.
Vet bills can really add up. For example, Great Dane owners may be surprised to learn that one out of every four dogs develops gastric dilatation volvulus syndrome. If your dog has GDV, it needs immediate veterinary attention. It could save his life!
Because of their rapid growth, Danish puppies shouldn't be spay/neutured until they're 3 years old. GDV (Gastric Dilatation-Volvulus) surgery costs an estimated $8000, and that doesn't include the special diet after the operation — prescription dog foods at $100 per bag.
Great Danes puppies from championship bloodlines can easily surpass $5,000 in price.
You should buy pet insurances early on so that they're cheaper than later on.
Are you ready to compare insurance rates? Enter your zipcode here.
Let Us Do the Insurance Research For You
Our comparison tool will help you narrow down your choices by showing you which plans are most likely to meet your needs. Just type in your zip below to start comparing now!
Medicare Health Insurance
Commercial Auto Insurance